Bulk suction cups UK from Suction Cups Direct
Suction cups that are required in a larger quantity than is shown on the Suction Cups Direct website, can be quoted for by using our
contact us
page. Please email us with your requirements and lead times and we will get back to you asap.
Most of our larger price break quantities of suction cups are at 3,000, 10,000, 20,000 and 50,000 plus.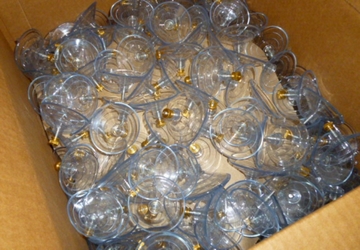 As

Adams Exclusive UK and European Distributor

for over 14 years, the partnership built up between our two companies helps continue to grow Adams export business.
Suction Cups Direct imports several million Adams suction cups per year into our UK warehouse.
We usually supply at or below Adams US factory direct prices (if they could be obtained on a direct basis) when you include the following calculations and costs with an individual US Dollar import:-
exchange rate
import duty on goods
Fedex shipping cost
import duty on Fedex shipping
Fedex admin. cost to calculate the import charges
VAT @ 20% on entry to the UK (re-claimable in your VAT quarter if registered)
Great value bulk boxes
Suction cup bulk boxes offer even greater value for manufacturers and POS/display companies as they are just taken from the shelf, labelled and sent out. With smaller orders, the contents will have been broken down, counted, individually bagged and labelled.
Bulk boxes are clearly indicated on the listing titles and start from 45/50 count boxes for 85mm heavy duty suction cups up to 3000 count boxes for some 22mm suction cups.
UK and Europe
Any customers enquiries originating in the UK and Europe direct to Adams USA, will be referred back from Adams to Suction Cups Direct here in the UK.
Rest of the World
Any customers enquiries for suction cups that originate directly from the rest of the World (non UK/Europe) to Suction Cups Direct, will be referred to Adams in the USA.
Payment
Payment for larger quantities is by BACS, Faster Bill Payments or International Wire Transfer.