HOME >> Bulldog Clips -Premier Grip >> Bulldog Clips. Silver shiny metal - 20mm
Bulldog Clips. Small genuine IXL bulldog clips. 20mm x 50 pack.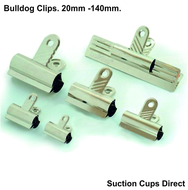 enlarge image


These are genuine, branded Premier Grip IXL bulldog clips with the name stamped on the clip face. Bulldog Clip is a registered trademark of Faire Bros. & Co. Ltd and dates back to 1942.

Any other metal spring clip described as a bulldog clip, is not the genuine article. This pack of small 20mm wide metal bulldog clips are handy for gripping papers together.