HOME >> Bulldog Clips -Premier Grip >> Bulldog Clips. Silver shiny metal - 20mm
Bulldog Clips. Small Metal Bulldog Clips. 20mm x 500 pack.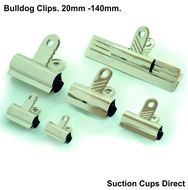 enlarge image

Bulldog Clip is a registered trademark and dates back to 1942.

These are genuine, branded Premier Grip IXL bulldog clips with the name "bulldog" stamped on the clip face.Any other metal spring clip described as a bulldog clip, is not the genuine article.
This pack of 20mm wide, strong, metal bulldog clips are handy for gripping papers together.