Choose suction cups by type
Adams suction cups have weight ratings* based on suction cups with hooks when applied dry on clean, flat glass.

22mm - 0.22kgs (0.5 lbs)
32mm - 0.45kgs (1 lbs)
47mm - 1.36kgs (3 lbs)
64mm - 3.2kgs (7 lbs)
85mm - 4.5kgs (10 lbs) - 5.5kgs (12 lbs)
85mm - Double giant suction hook - 9kgs (20 lbs)
*A screw-in fitting, push in fitting or slot head will still have the suction cup adhesion strength on the applied surface, but may lower the holding weight of an attached product due to it's reliance on the thread made in the PVC, the push-in attachment or the closing jaws of a self closing cup.
---
Suction cups - types and uses.

Click on any picture for that category.

Suction cups with hooks



Suction cups for hanging signs, stained glass,

Christmas window ornaments etc.
Sizes from 22mm - 64mm diameter with metal hooks.

Heavy duty giant suction hook.

85mm diameter.
Strong Polycarbonate hook
Holds up to 5.5kgs (12lbs) on glass.

Suction cup with large hook

that is ideal as a wreath hanger.
Large hook holds 4.5kgs (10lbs).

Heavy duty Giant double suction cup with hook.

Rated to hold 9kgs (20lbs).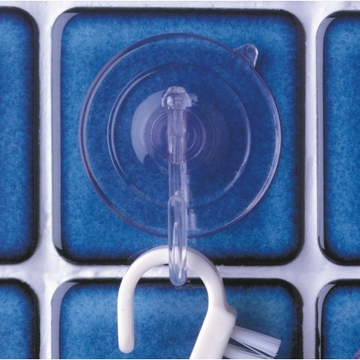 Suction hooks for kitchen and bathroom use.
Strong clear 180° Polycarbonate swivel roto hook.

For thin punched posters and self hanging products
with a hole or keyhole slot.
Simple push through application.
See technical drawings for suitability on any pack size listing page.

For thin posters up to 2mm in thickness with punched hole.
Flat barbed thumb tacks for a firm grip.
For thicker posters - see suction cups with thumb screw below.

For thin posters up to 2mm in thickness with punched hole.
Same suction cup as above but with large thumb tack with short prong.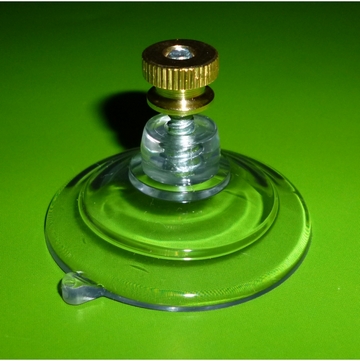 For thicker signs, posters, perspex, foam board etc. between 2mm and 7.5mm in thickness.

22mm are used for tacks and larger diameters can be used with screws.

Holds an item further away from the fixing surface.
Has a top pilot hole for a screw or could be used to push inside a drilled hole.
Also available with a
hook.
47mm long gripper neck can used in a drilled hole for a firm fixing.

Suction cups for cord, string, wire, dowel, cable ties, metal ring.
Hole goes straight through suction cup to the other side.
Suction cups for demanding applications.
85mm diameter. Holds up to 5.5kgs (12lbs).
Available with hook, loop for rope or straps, top pilot hole for a screw or bolt, mushroom head or side pilot hole.

Suction cups for wires, aquarium airlines (large slot head) and Christmas lights on windows.

For door and window signs, documents and literature.
In silver shiny metal. These are handy for holding items in windscreens.

Space gripper for transporting glass and acrylic sheets.
Separates and cushions parallel glass surfaces in the horizontal plane.


Remove small glass screens from electrical products with the larger suction cup sizes "suction cups with loop"




Visit our
home page
to see why companies choose Adams suction cups at Suction Cups Direct for their requirements.