HOME >> Christmas Accessories >> Christmas Card Holders - Magic Mounts self adhesive
Magic Mounts Adhesive Christmas Card Mounts. Pack of 128.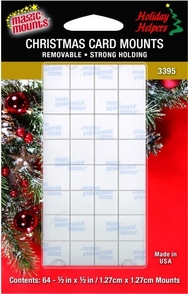 enlarge image

"Magic Mounts" self adhesive pads are easily removable from the applied surface after use.

These Christmas Cardholders are tiny removable double sided adhesive pads or card mounts that can be used on walls, wooden doors or smooth surfaces.
For heavier cards - use more than one.


Made in USA.





Blister packaging design may vary.