HOME >> Christmas Accessories >> Wreath Hook. Double Giant Suction Wreath Hook.
Adams Giant Double Suction Cup Wreath Hook. Pack of 2.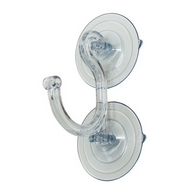 enlarge image

Adams Giant Suction Cup Wreath Hook consists of double giant suction cups connected to a very strong, large, clear Polycarbonate hook and is rated to hold 9 kgs (20 lbs).




This Adams double hook giant suction cup product will hold securely on dry, flat, clean plain glass or a slick/shiny, un-textured, non porous surface like glossy plastic or high gloss plain ceramic tiles. Each suction cup is 85mm in diameter, making the whole product approx 190mm in length.




The Giant Wreath Hook will work indoors or outdoors and in temperatures down to minus 29°C if first applied above 5°C.

This product may be sent without the blister card packaging.

Watch the Pro-Grade Giant Suction Wreath Hook video.